Tech hires Goethie to coach linebackers; Baker moves back to safeties
With spring football slated to begin Friday (weather permitting) Louisiana Tech has hired Delta State Defensive Coordinator and Linebackers Coach Lanier Goethie as linebackers coach, sources tell BleedTechBlue. Tuesday night, Skip Holtz introduced Goethie to the team.
With the hiring of Goethie, Tech Defensive Coordinator Blake Baker will move back to coaching safeties. Baker spent 2014 coaching safeties and 2015 coaching linebackers after becoming defensive coordinator when Manny Diaz left for Mississippi State.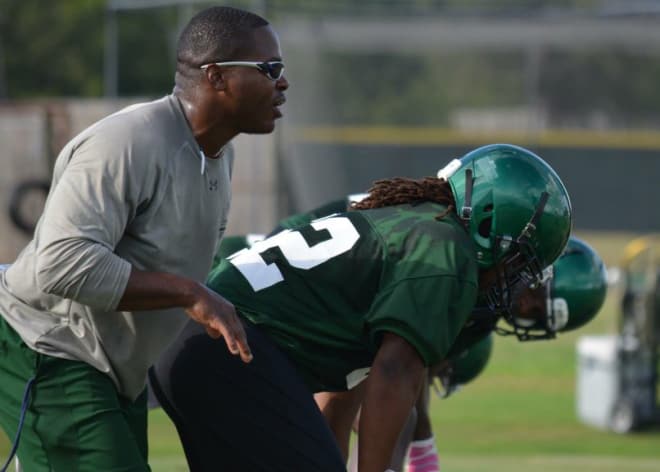 Prior to Delta State, Goethie served as a graduate assistant at his alma mater, Ole Miss. During his time in Oxford, Miss., the Rebels participated in the 2010 Cotton Bowl where they defeated Oklahoma State.
A standout player for the Rebels, Goethie played at Ole Miss from 1999-2002 garnering Chucky Mullins Courage Award in 2002. He amassed 178 career tackles with 13 tackles-for-loss and an interception and participated in three bowl games while at Ole Miss.
Goethie will coach an inexperienced group of linebackers at Tech. Russell Farris and Lloyd Grogan are the only players with more than one season's experience coming back. Michael Mims is coming off a torn ACL, Brandon Durman was forced into action last season due to injuries in the linebacking corps and Quanta Moore saw limited action last season as a redshirt freshman. Several Tech linebackers redshirted last season and will need this spring to get acclimated.
There has been a defensive staff vacancy at Tech since mid-February when Karl Scott left for Texas Tech. We heard early on Baker would be moving back to safeties, and as spring football approached it was obvious a name had to be high on Holtz's list as quiet as the search had been.
Goethie was Holtz's guy.