Tech adds Tulane WR transfer
Teddy Veal told BleedTechBlue.com Friday he will enroll at Tech in March
Louisiana Tech's receiving corps got a boost Friday when former Tulane Green Wave standout Teddy Veal (6-0, 190) decided to transfer and become a Bulldog.
Veal led all Green Wave receivers a year ago with 48 receptions for 644 yards and five touchdowns. With the coaching change at Tulane, Vela asked for and received his release in January. On February 12, Veal visited Ruston. Since Veal will begin school March 8 and be available for Spring Football which begins March 11.
"With the coaching change, it wouldn't be best for me to stay [at Tulane]," Veal told BleedTechBlue.com Friday. "Even though I think they'll go to a bowl game this year."
Tulane is obviously known for their academics and Veal led off his reasons for choosing Tech by their Tier 1 standing. Veal would like to get a degree in Public Health and possibly a master's along with a minor in Engineering while at Tech.
"Academically, they are a Tier 1 school and they have the quarter system which is a big advantage most schools don't have. The whole school was very family oriented. There were a lot of people supporting everyone so I saw it more as a family – the community and school itself."
Graduating from Harvey West Jefferson High School after spending the first three years of high school at New Orleans Carver High School, Veal and Tech cornerback Ronald Lewis (another transfer) missed playing with one another by one year but the two are friends. Lewis did not have much of an impact on Veal's decision citing he just wanted "what fit Teddy overall."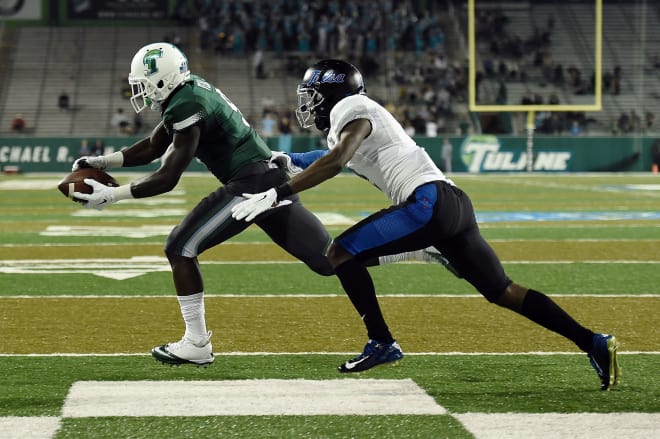 Veal is someone who does not get real hung up on the recruiting process. Tech quarterback signee, Jack Abraham, was a one-time Tulane commitment and the two talked about the transfer. What was going to be a quarterback to wide receiver connection will be once again.
"A lot of people get caught up in big names I'm not that guy. I'm strictly about business."
Coming out of West Jeff, Teddy was a 3-star prospect and after receiving his release considered transferring to Southern Miss, Nebraska, Stanford, Washington, Georgia, Texas Tech, Louisiana-Lafayette, Auburn and LSU.
After sitting out the 2016 season due to NCAA transfer rules, Veal will join a talented group of receivers in 2017.
Saturday, Veal tweeted about his decision to transfer to Tech.
Tech has made it a norm under Skip Holtz to get transfers. From Cody Sokol (Iowa) and Jeff Driskel (Florida) at quarterback to receivers Alfred Smith (Utah) and Paul Turner (LSU) to cornerbacks Ronald Lewis (Arizona State) and Jerrell Jackson (Hawaii) to defensive end Houston Bates (Illinois).
On National Signing Day Holtz made it clear they were done signing players but would enter the transfer market.
"The difference between taking a 'junior college' player and maybe a transfer who has to sit a year, they come in, they get acclimated academically, they take that redshirt year, they get acclimated athletically, they learn your system, then all of a sudden when it's their turn to get on the field," Holtz said.

Is Veal it? Probably not. What positions? Who knows.
"I wouldn't rule out any position. You really want the best players available if all of a sudden a young man becomes a transfer and is looking for a program to go."